System certification of quality management
TECNOLOGY COM  requires obtaining without any compromise, of the quality work that we perform.
Based on this consideration, the quality policy established by executive management TECNOLOGY COM aims to obtain quality parameters of the works done so, to fulfil our clients' needs and even realize the exceeding of their expectations. Our demarche to quality is accomplished by using of modern techniques in construction associated with effective management and local experience.
Our goal is to execute the planned construction on time, durring the project compliance with all applicable laws and regulations in force, even in conditions of difficult sites and / or removed.
TECNOLOGY COM commits to monitor compliance of the quality management system adopted and provide the conditions for continuous improvement. In this purpose, we are planning and allocate the financial,  material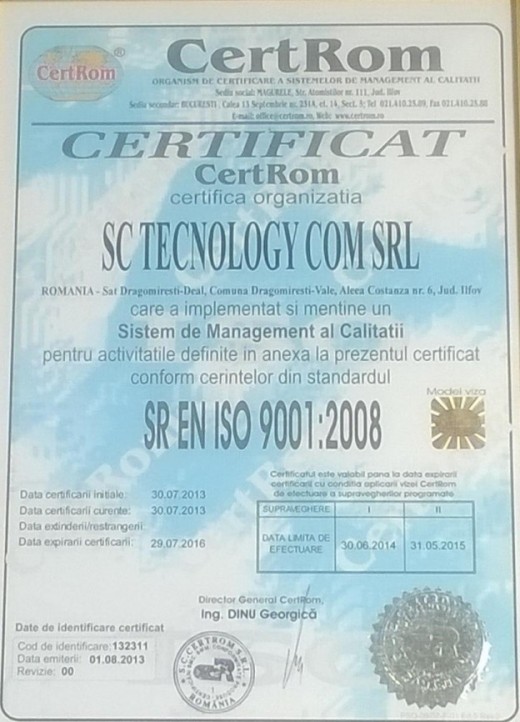 and human resources.
We are also convinced that only mutually advantageouse relationships with our suppliers and other collaborators – are involved in the process of building – we are able to strengthen our capacity of provide quality and value of the work that they do.
System certification of quality management by an accredited certification body and recognized internationally is for TECNOLOGY COM a means of validating the proper functioning, its efficiency and effectiveness but also to opportunity of continuous improvement.
In order to ensure that we are able to master the quality we have adopted a system of quality management and meets the requirements of 
SR EN ISO 9001:2008.